12 February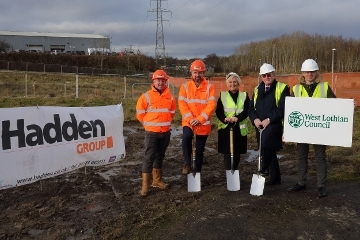 Work has recently begun on a development adjacent to Lang Drive in the Standhill area of Bathgate. The housing will be constructed by Hadden Group and will add a further 22 affordable homes to West Lothian Councils portfolio. The houses will range from one & two bedroomed cottage flats to four bedroomed houses and bungalows designed and built for people with disabilities or who require accessible housing. The houses are due to be completed in early spring 2021.
The commencement of the site in Bathgate is just part of the latest phase of the council's new build programme which is one of a number of initiatives aimed at increasing the supply of affordable housing in West Lothian. As part of the local Housing Strategy, the council has a target of 3,000 new affordable homes being provided in West Lothian over the 10 year period to 2022. The next phase will see 370 homes delivered over the next two years including homes in Livingston, Broxburn and West Calder as well as Bathgate.
Executive Councillor for services for the community George Paul said: "The supply of affordable housing is an issue nationally as well as locally. However work has been underway for some time now to address this issue in West Lothian. Sites like this one here in Bathgate are a further demonstrations of the council's continued commitment to delivering affordable living for the residents of West Lothian."
Steven Brady, Managing Director at Hadden Group added: "Our team are pleased to be working again with West Lothian Council through the Scottish Procurement Alliance Framework to deliver this high quality, energy efficient development of new homes."