21 August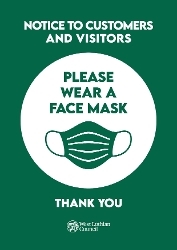 This applies when visiting public/communal areas of all West Lothian Council operated buildings. This includes venues such as West Lothian Civic Centre, Partnership Centres, Visitor Centres and other community facilities.
This is in line with latest Scottish Government guidance which states in enclosed spaces, where physical distancing is more difficult and where there is a risk of close contact with multiple people who are not members of your household, you should wear a face covering.
Face coverings should be worn when visiting council buildings which are currently operating limited services for the public. This includes:
West Lothian Civic Centre
Bathgate Partnership Centre
Linlithgow Partnership Centre
Fauldhouse Partnership Centre
Strathbrock Partnership Centre
Arrochar House
Community Centres
All Libraries, Registration and Housing Offices
Visitor Centres at Beecraigs Country Park and Almondell & Calderwood Country Park
(Please note this does not apply to after school clubs taking place within council buildings)
Face coverings do not replace physical distancing, good hand washing and good hygiene practices as these are the most effective measures we can take to prevent the spread of coronavirus.
It is understood that not everyone can wear a face covering as per the Scottish Government guidance.
https://www.gov.scot/publications/coronavirus-covid-19-phase-3-staying-safe-and-protecting-others/pages/face-coverings/