20 October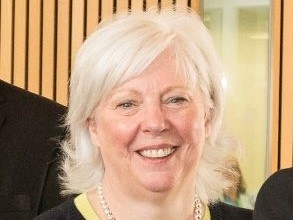 Service manager Elaine Nisbet was appointed a Member of the British Empire (MBE) in recognition of her team's excellent work to help the West Lothian community.
Modest Elaine insists the award is reward for the whole of the Anti-poverty team for their work to help West Lothian residents affected by the covid-19 pandemic, rather than her individual efforts.
Elaine, who has worked for the council for over 20 years, said: "I am delighted to receive the MBE award from the Queen on behalf of the council's Anti-Poverty service.
"The award is not just for me, it's really for everyone in the team who has worked to support West Lothian residents during this challenging time.
"Thanks to everyone in the Anti-Poverty service who has made an amazing effort to help the local community during this time."
Married Elaine lives in Falkirk and has three children and one grandchild.
Provost Tom Kerr said: "Congratulations to Elaine and the council's Anti-Poverty service on this MBE award.
"I've seen first-hand what a superb job Elaine and the team do to support West Lothian residents, so this award from Her Majesty is richly deserved."
To see all the West Lothian Honours recipients, please visit West Lothian residents honoured by the Queen