22 October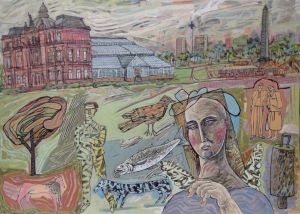 Although the Gallery at Linlithgow Burgh Halls is still closed, a virtual tour of Paths to Other Places: Drawing Parallels has been created so no-one misses out on the chance to see the fascinating work blending the real and imagined.
To take the virtual tour, please visit , and select Paths to Other Places: Drawing Parallels - James Cosgrove from the Exhibitions drop down menu.
West Kilbride-based Cosgrove, known as Jimmy, is a Scottish artist and designer who was a Deputy Director at Glasgow School of Art before he retired from academic life in 1999.
A regular exhibitor at the Royal Scottish Academy, the Royal Glasgow Institute and the Paisley Art Institute, Cosgrove also exhibits widely in a number of commercial galleries.
His current work in acrylic, collage and painting is based on international travel in general and people and places in the west of Scotland, in particular Arran and Ayrshire.
The work on display is a blend of new and previously displayed works, featuring imagined journeys and communities in fabricated landscapes. The images are predominately rooted in drawing, although more about the dynamics and psychology of visual form than capturing exact likeness.
For more information on the artist, please visit Jimmy Cosgrove Wordpress (opens new window)
This is the second virtual tour of an exhibition at the Gallery in Linlithgow Burgh Halls. The previous virtual tour of Settlements by Alasdair Wallace is also available at .