18 August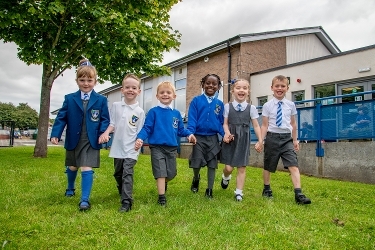 Schools throughout West Lothian welcomed children back to the classroom this week after seven weeks of summer holidays.
Over 27,000 number of pupils in West Lothian will return to school, along with thousands of school based staff.
It was an exciting day for nearly 4,300 youngsters in West Lothian on Tuesday as they started their exciting new journey either as a primary 1 pupil or a new S1 pupil. Nearly 2,100 new P1 pupils began school, including an incredible 35 sets of twins.
Over 2,200 S1 pupils started secondary school.
Unfortunately we couldn't get around all primary schools today, but here's a selection of P1 pupils from Greenrigg Primary School, St Joseph's Primary School, Linlithgow Primary School and twins from Balbardie Primary.
David Dodds, Executive councillor for Education, said: "I'm a former teacher myself and I know it's an exciting and busy time for pupils, parents and school staff, but I certainly wish everyone the very best upon their return.
"Last year was one most of us want to move on from, and it was certainly an extremely challenging time for our school communities. This, hopefully, is the beginning of a much brighter school year.
"The first day of term is always an exciting milestone for children starting primary and young people entering secondary school.
"I hope all children and young people had a great first day and enjoyed being at school."