11 November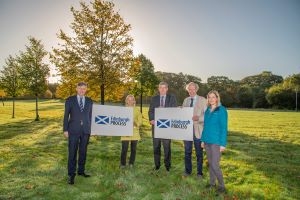 West Lothian Council has joined the Scottish Government, NatureScot (formerly Scottish Natural Heritage), a number of other Scottish local authorities and CoSLA in signing up to the Edinburgh Declaration, which aims to prioritise healthy biodiversity and protecting our ecosystem.
This commits the council to consider the impact on nature when making key decisions, such as recognising the benefits of integrating nature-based solutions into city and local planning, and the importance of placemaking and place-based approaches in doing so.
Leader of West Lothian Council Lawrence Fitzpatrick said: "I'm delighted that West Lothian has signed up to the Edinburgh Declaration on biodiversity.
"It's very important that we protect our shared ecosystems and consider the impact on nature of our decisions.
"Through actions such as this, and declaring a climate emergency in West Lothian, we are showing our deep concern for loss of biodiversity and that we in West Lothian can play our part in moving towards a more nature-focused society."
The Edinburgh Declaration sets out the aspirations and commitments to deliver for nature over the coming decade, calling on parties to the UN Convention on Biological Diversity to take strong and bold action to halt biodiversity loss.
It urges that greater prominence be given to the roles of sub-national governments, cities, local authorities, such as West Lothian Council, and other organisations in delivering on a new global framework of biodiversity targets.
The council are working with Green Action Trust (formerly the Central Scotland Green Network Trust) to undertake tree planting and habitat creation on a number of sites across West Lothian in 2022 as part of the 'West Lothian Climate Forest' approach to carry out projects to help with carbon sequestration.
In addition, the council is also working with Edinburgh & Lothians Greenspace Trust (E&LGT) to establish several pocket forests - "Wee Forests"- supported by NatureScot. E&LGT will link-up with local schools in the chosen areas and involve local volunteer 'keepers' to help look after these small, urban woods.
The council has also recently appointed new Ecology and Biodiversity Officers, who will be responsible for enhancing protection of wildlife, their habitats and ensuring public enjoyment of these in West Lothian.
Over half of West Lothian is open countryside and green spaces, and the role of the officers will be to encourage biodiversity to flourish across the area, and to protect those areas already highlighted as being of value to biodiversity.