23 September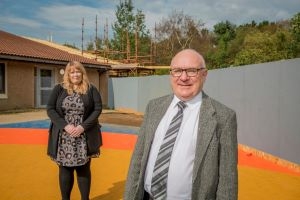 The programme of works focused on completing essential upgrades and refurbishments across the West Lothian school and learning estate over the traditional summer break.
Despite unforeseen conditions brought on by the coronavirus pandemic and subsequent lockdown, almost all projects progressed as planned with 95% commencing and 75% completed in time for term resuming in August.
Numerous repairs and refurbishments were completed at schools across the area including: boiler replacements at Boghall Primary School in Bathgate and Polkemmet Primary School in Whitburn, upgrading works to the kitchen at St Mary's Primary School in Bathgate, new toilets in the nursery at St Ninian's Primary School in Livingston and the replacement of floodlights at the 3G football pitch at Inveralmond Community High School in Livingston.
Work on major extension projects also featured in the programme including an investment of £1.7million for the extension and refurbishment of Ogilvie School Campus, Livingston. External and refurbishment works took place over the summer with extension works progressing into November. All remaining refurbishment phases will be completed by January 2021.
Work also commenced on the £365,000 extension of Stoneyburn Primary School, the £390,000 extension at Greenrigg Primary School and the £372,000 extension at Parkhead Primary School in West Calder. These projects will be complete by December 2020.
Executive councillor for education David Dodds said: "We are proud to say that we have one of the best school estates in the country and we continue to ensure this is the case through regular programmes of refurbishments and improvements.
"Obviously there has been a different challenge this year with unforeseen conditions brought on by the coronavirus outbreak. It makes it even more pleasing to see that the vast majority of planned works were able to be completed or at least make significant progress.
"I'd like to thank the staff in our schools and early learning centres, council officers and our contracted partners on each project for the work they have carried out in such uncertain times for the benefit of our pupils."