15 December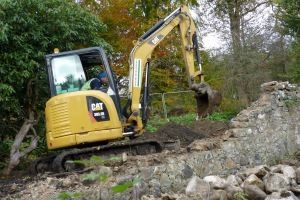 The stone and lime mortar wall, which borders the original walled garden of the old Almondell Estate, was in danger of being lost due to its deteriorating condition.
The £200k restoration work project is being funded by the National Lottery Heritage Fund (previously Heritage Lottery Scotland) and West Lothian Council with support from Sustrans Artroots Project and Scotmid.
West Lothian Council's Parks & Woodland and Construction Services teams are working in partnership with volunteers from the Friends of Almondell & Calderwood on the project, which will involve stabilising and restoring the wall using traditional materials and techniques.
Executive councillor for the environment Tom Conn said: "It's fantastic to see work underway to ensure the historic wall next to the visitor centre in Almondell & Calderwood Country Park is preserved for future generations.
"Thanks to the Heritage Fund, Sustrans Artroots Project, Scotmid and Friends of Almondell & Calderwood for making this happen, along with dedicated officers from several council teams.
"It provides a valuable link to Almondell & Calderwood's grand past, including the Earls of Buchan and Lord Advocate Henry Erskine who once called the estate their home before it became a country park.
"Once completed, a fascinating heritage trail will tell the story of Almondell & Calderwood's history, using the wall and other significant heritage features within the country park such as the Nasmyth Bridge, Kirkhill Pillar, Camps Viaduct and Union Canal Feeder Aqueduct.
"An orchard with heritage species of traditionally trained fruit trees is also planned, helping restore the walled garden area to its original purpose."
Restoration will take place over the coming weeks with completion estimated for early 2021. The project will also offer training opportunities for staff and volunteers interested in traditional lime mortaring methods so as to carry the project into the future and ensure that the wall is maintained for years to come.
Almondell & Calderwood Country Park attracted over 166,000 visitors last year, with the walled garden location being a main attraction for young families using the children's play area and hireable BBQ within its boundaries.